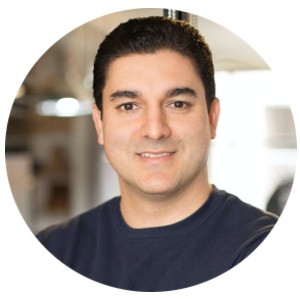 By PJ Taei, Special FBA Contributor
Once you've taken the leap and decided to launch your online fitness program, you need to decide how to price your membership.
There's a lot to think about, such as:
Who you're selling your fitness program to.
The revenue streams you'll be using.
Your launch plans.
How you're going to scale your business.
We're here to walk you through all these factors so you can choose the right price-point for your online exercise classes.
Let's spin right into it.
Table of Contents
Factor #1: Audience
Factor #2: Monetization Strategy
Factor #3: How Will You Launch Your Membership Site
Factor #4: How Will You Grow Your Membership Site
Factor #1: Audience
It's not quite as simple as "if you film it, they will come" - the online fitness world is competitive, so you need to know who you're targeting.
While a niche audience is limited in size, it's easier to talk to a specific group of people, through email marketing or paid ads for example, and have a product that resonates with them.
Niche content can offer more value to your members because it fits into their lifestyle or needs better than general fitness classes, which means you can price accordingly.
For example, Naturally Sassy offers fitness and strength training through ballet classes.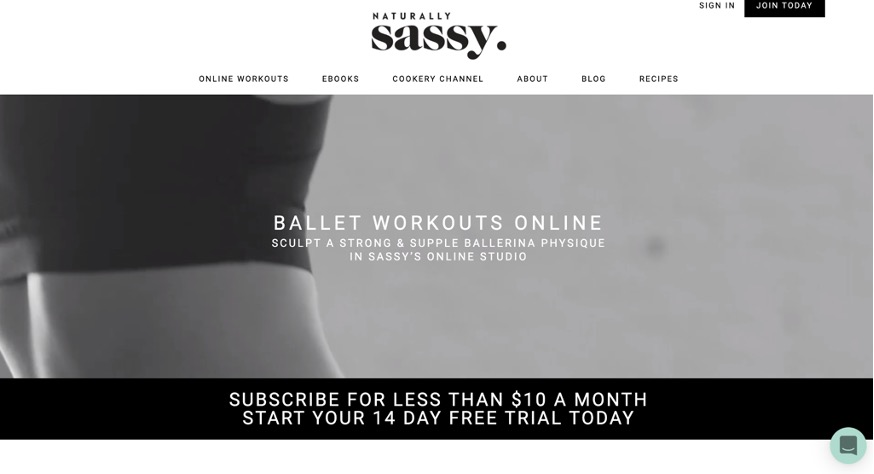 Image Source: Naturally Sassy

The workouts are designed for people who want to "burn fat and create long, lean, sculpted muscle", which definitely appeals to a niche audience.
When setting up your online fitness membership, you don't have to have an existing audience, but it does help.
GymBox started running alternative fitness classes in the West End of London and developed a chain of bricks and mortar gyms, before going online.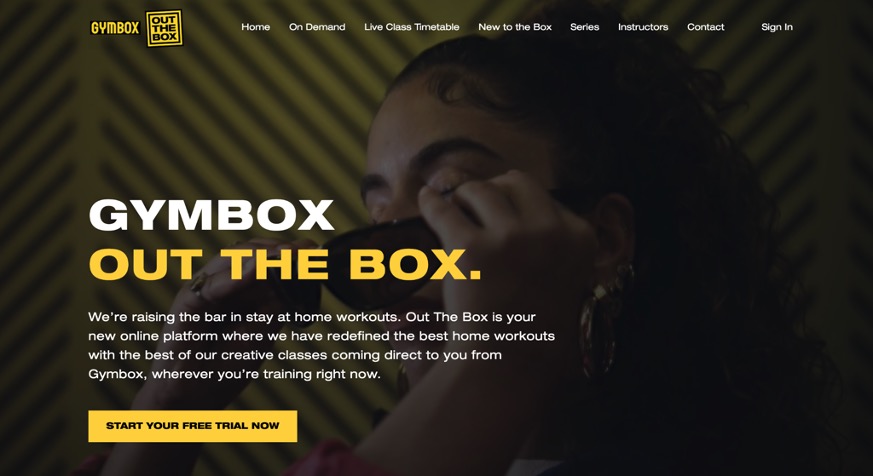 Image Source: GymBox

The audience they had when they began hosting online classes already understood the value of what was on offer and the online classes could be priced to suit.
Be sure to track all the audience data you have at hand so you can understand who your audience is and where your growth is coming from, too.
Let's look at the second factor to consider when pricing your online fitness membership.
Factor #2: Monetization Strategy
How you plan to make money from your online fitness classes will be another factor that sets your price.
There are three main ways you can monetize your video-on-demand (VOD) content:
Advertising (AVOD)
Subscriptions (SVOD)
One-off transactions (TVOD)
Running ads on your fitness videos will only make you big money if you've got hoards of fans, and not everyone is Chloe Ting.
Building a membership website means you can create regular content when you have time to invest long-term, which lends itself to the SVOD model.
If you'd rather create complete fitness courses, such as boot camps, you can sell them as a package on your site using TVOD - it'll all depend on the amount of time you have to create more value.
Walk at Home offers a monthly or yearly subscription for its calendar of exercise classes, accessed each month through its iOS and Android app.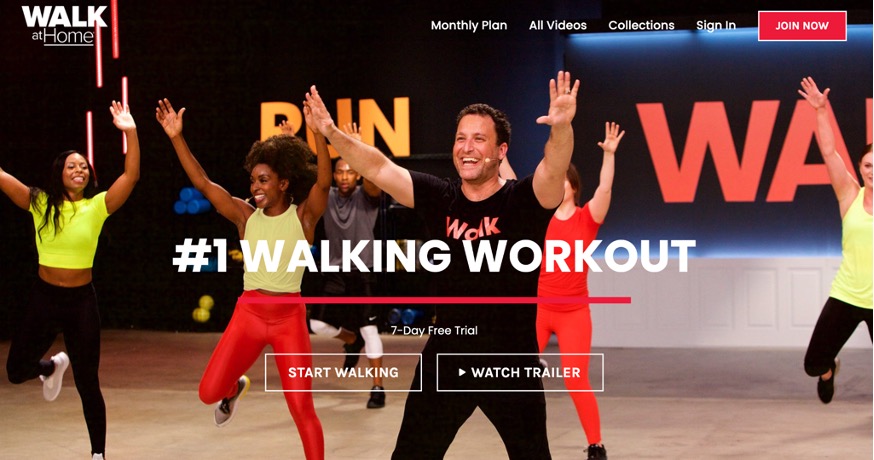 Image Source: Walk at Home

The brand has also diversified into other revenue streams with its own Amazon shop.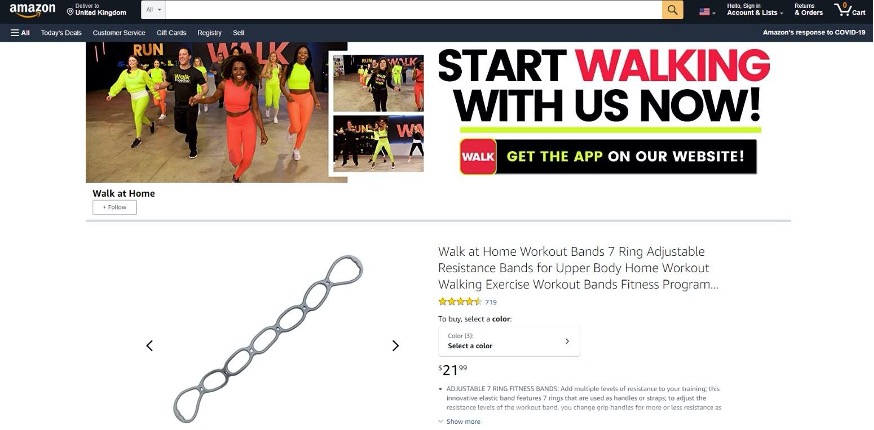 Image Source: Amazon

When you have multiple ways to monetize your fitness expertise, you can price your classes lower knowing that your members will generate income through your other monetization options.
The third factor when looking at your online fitness membership pricing is coming up.
Factor #3: How You Will Launch Your Membership Site
When you're starting out with your online fitness program, you need to get your launch right.
Getting it done is better than getting it perfect.
You should launch your MVP (minimum viable product) so you can start gathering data about your new members and figuring out how to find more people just like them.
Offering a discount is a great launch technique, which is a route that iChuze has gone down.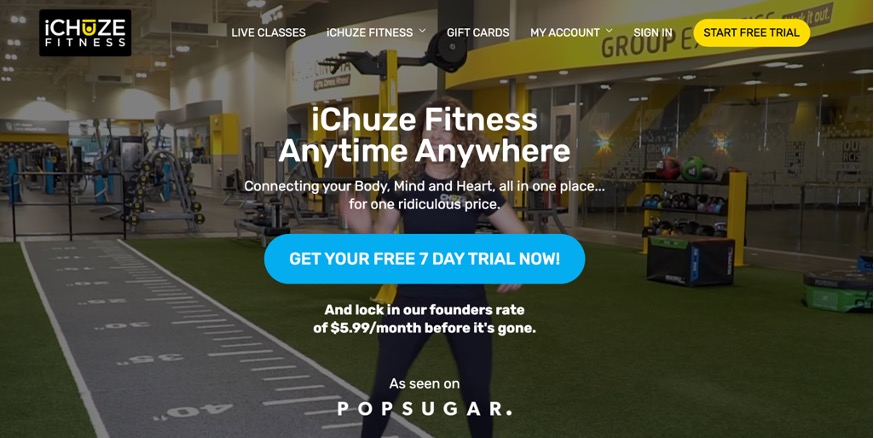 Image Source: iChuze Fitness

As you can see in the screenshot, they're offering a super low price for their new members which they say will be locked in for all the "founder members".
On top of that, they offer a 7-day free trial, which is another way to bring in new members.
How to Create and Sell an Online Fitness Program
Once you've launched your fitness program, taking some hints from the video above, then you can expand, polish, and perfect your content and marketing.
There's one more key factor we want to go over with you.
Factor #4: How You Will Grow Your Membership Site
The final thing you need to factor in when pricing your fitness program membership is your long-term growth plan.
Consider the marketing channels you'll use and the pace they'll be able to help you grow.
Will you work on building a community on your site and through social media? Does paid-for advertising help you reach your audience? Can affiliate marketing get you to your goals?
There are other ways that you can grow your membership that can influence how you set your pricing, such as your avenues for expansion.
MommaStrong started out offering fitness classes to new moms and has since branched out into PappaStrong and TeenStrong.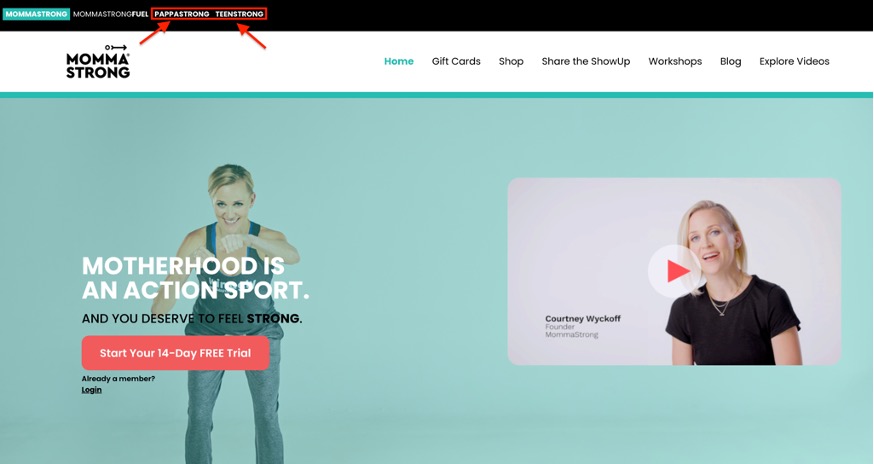 Image Source: MommaStrong

Another viable option for expanding your online fitness program is to offer live classes to your members.
This is a natural step in growing your business and can be part of a tiered price plan where higher-paying members can access your live-stream fitness classes.
That's all the things you need to think about when pricing your fitness membership site, so let's wrap this up.
Wrapping Up
Getting your pricing right is vital for the success of your fitness membership site.
You need to pick a price that considers:
What your audience can afford.
What your competitors offer and what they charge.
The revenue you want to bring in.
The quality of the content you produce.
This doesn't mean you should always charge less than everyone else.
In fact, from our customers at Uscreen, we know that niche fitness programs or ones with highly engaged communities charge roughly double the industry average.
However, when you're in a competitive space, having a lower price - then finding other ways to monetize your audience - can be the way to go.
Want to know all the details about how to build your successful fitness streaming platform?
Check out our recent webinar about how our customers have hit $100 million turnover and how they got there.
How Uscreen Customers Make $100 MILLION Per Year
---
PJ is the founder and president of Uscreen, an all-in-one video monetization platform that empowers video entrepreneurs and creators to monetize their content and build thriving businesses around their videos.